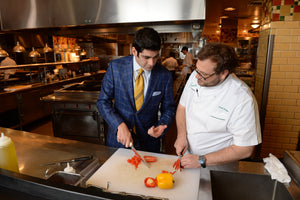 Quality is economy
New Orleans & Baton Rouge
Sprezzatura. Italian. Noun. Meaning a certain nonchalance, so as to conceal the art of ones actions or appearance, creating an aesthetic of effortlessness. In short, it is the refined act of being actless. George Bass carries menswear that embodies this effortless composure and confidence.

All of the garments we select for our customers are made from the finest materials, yet remain fashionably understated. Our jackets have soft-natural shoulders with waist suppression. Our fabrics are classic and with color, yet always masculine.

George Bass provides a sophisticated look to gentlemen in both New Orleans and Baton Rouge. With a master tailor on the premises, we specialize in made-to-measure clothing. After a single fitting, we are then able to record your measurements, allowing us to fit future garments. Enjoy perfectly tailored garments without having to leave the comfort of your own home.

We offer such brands as:
Edward Green, Hamilton, Incotex, Isaia, Kiton, and Samuelsohn.
Visit our stores
201 St. Charles Ave #103
New Orleans
(504) 582-1180
M-F: 10-5 PM
7280 Corporate Blvd #C
Baton Rouge
(225) 400-9901
M-F: 10-6 PM
Subscribe to our mailing list